The Click Business in the News
Wired World
Experts believe Web Commerce will soon be a requirement for most businesses. The business to business Web Commerce marketplace is expected to reach $6.3 trillion by 2006, and business to consumer $250 billion. Web Commerce is becoming a permanent part of business' efforts.
Business owners are responding by making their products and services available by creating inviting, functional and secure environments for business in the most human way possible. Without the feel, fit, taste and smell of a product and the crucial trust and interaction of developing business partnerships, it's even more important to relate to the human business model.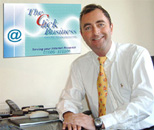 Apart from on-line shopping there will be exponential growth within the internal corporate business model. With the development of Web applications and newly available technologies many companies have extended out from the LAN or WAN into intranet, extranet and the Internet.
Companies see Web and Browser technologies combined with Web applications as a way to bring together their daily global business activities. Vendors, suppliers and service providers will have a direct input within their area of partnership with the corporate multinational.
In this way the corporate will take direct control of their business data without having to rely on diverse third party's systems. It will also give them back the leverage edge, since they will not be tied into any third party's service offerings.
The Click Business can help in every aspect of your company's Internet presence, it will change the way you do business.
Kevin O'Driscoll, Director
The Click Business.com