The Click Business
What we're about
Internet Development has come a long way in the last 10 years.
Web Services are becoming the key resource and tool for many businesses, and not just Corporates, but all shades and sizes of Commercial and Social Enterprise.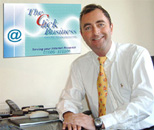 At The Click Business we create opportunity for businesses of all shapes to use the power of Web Services the Internet provides. We look at the particular business model that applies to the commercial daily activity of the enterprise and apply the technologies to suit the business model, often improving the business functionalities along the way.
Design is also a very important part of our work, the use of the software should be a great user experience as well as being practical and robust.
We have very creative designers available to us as well as very experienced programmers.
Our MD has 25 years experience in the commercial corporate world dealing with world class blue chip companies in Europe, Japan and North America in the field of Logistics and Supply Chain Management.
Our aim is to provide an opportunity for all companies, young, old, big and small to step into Web Services as a cornerstone to their growth and development.
Call us to discuss your ideas on 01606-331106 or E-Mail us.
The Click Business.com