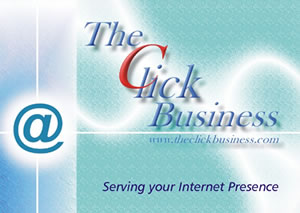 About Our Site
Much of the technologies used in our site are not obvious to the average visitor. At The Click Business we design all our sites according to the most up to date W3C standards to ensure optimal compatibility with the greatest number of Browsers, Browser versions, screen resolutions, and monitor sizes and types.
Web Design is inherently restrictive at low data transfer rates. The Internet itself varies in speed at certain times of the day. Our average target page load time is less than one second at 56KB per second modem speed. To achieve this, optimisation of every element of the page is necessary to achieve a balance between quality and speed of access.
Towards XML Compliance
Web pages traditionally contained text, images and formatting information for the Browser to render the pages accurately on screen. As the Web becomes of age these elements will be handled outside the page with much of the older formatting code becoming obsolete (Deprecated). New and Redesigned sites will need to be written to accomodate these changes, in time new Browser versions will not be able to read older sites designed entirely in HTML Code.
Towards Accessibility Compliance
This Site has access coding for some speech browsers used by blind people, and pages optimised for the partially sighted. Browser detection will issue pages suitable for the user, users will soon be able to automatically configure pages according to their preference, for example, if they are colour blind. Web Sites will shortly detect the language preference of the user, automatically translating the text into their preferred language.
Content, Presentation and Logic
Traditionally an HTML page will contain all of these functionalities. The new Sites will need to seperate these functionalities using new technologies such as:
Content - Database Management System
Presentation - Cascading Style Sheets
Logic - Extensible Hypertext Markup Language (XHTML) or (XML)
Back to Top of the page
[Web Sites and more] | [Web Sites - Designing afresh] | [About our Site] | [Portfolio of Sites] | [The Future of Web Sites] | [Contact Us] | [Home Page]