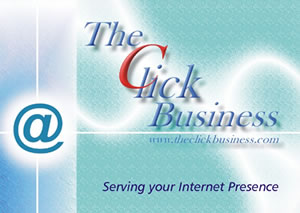 Designing a fresh new look
If your Web Site is more than a few years old it probably is in need of a re-vamp.
Nothing turns off an audience more than old content and images well past their sell-by date. Your site is also not performing well compared to your competition and your services and products have changed over time.
No Job is too small
The Click Business will review all aspects of your site and discuss improvements both aesthetically and technically. You may feel a few colours need to change or a fresh new approach is needed.
DIY Tools
We can create content management systems that enable you to change content, images and so on to keep your site updated and current as often as you wish. Keeping content fresh in your shop window to the world keeps people interested and your company in the forfront of their minds.
In for a penny...?
Maybe its also time to revisit other aspects of your customers' perception of your company.
Stationary, brochure and letterhead design?
Back to Top of the page
[Web Sites and more] | [Web Sites - Designing afresh] | [About our Site] | [Portfolio of Sites] | [The Future of Web Sites] | [Contact Us] | [Home Page]